By Marcus Zusak
It's just a small story really, about, among other things, a girl, some words, an accordionist, some fanatical Germans, a Jewish fist-fighter, and quite a lot of thievery.
Set during World War II in Germany, Markus Zusak's groundbreaking new novel is the story of Liesel Meminger, a foster girl living outside of Munich. Liesel scratches out a meager existence for herself by stealing when she encounters something she can't resist: books. With the help of her accordion-playing foster father, she learns to read and shares her stolen books with her neighbors during bombing raids – as well as with the Jewish man hidden in her basement before he is marched to Dachau.
This is an unforgettable story about the ability of books to feed the soul.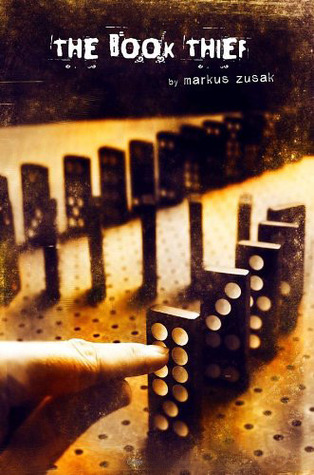 I recently joined a book club and this was our first pick. I've heard about this book for quite a long time, but never picked it up, probably owing to my aversion to all things WW-II era. I was quite surprised by how much I liked this book.
Most of the criticism from what I read online has to do with whether or not you liked the narrator. I loved that Zusak used Death as a narrator. Quite unusual and I thought it really worked for this book. I also like Death's perspective and the way that he talked.
I loved the writing. Loved, loved the writing. Absolutely beautiful from end to end. This is one of those books that, once you get done dissecting the rich story, you can spend forever unpacking the language.
The book's form was also very creative. You have a regular written text that tells the story, a secondary sort of text that also functions like a footnote or an aside, plus some handwritten books with pictures.
One thing I also found interesting about this book is that, because it covers such a long period of time, the story feels almost more episodic or a chronicle than a plot-driven book, yet another rarity in publishing.
It's hard to really discuss this book too much as the book makes heavy use of foreshadowing and realizes a lot about the end and the future events right at the beginning, but I'll just end with saying that I'm really glad I read this book and I'll definitely be adding this to my stable of "books I always recommend to people".
Next up: watching the movie
Have you read this book or seen the movie? What did you think of one or both?